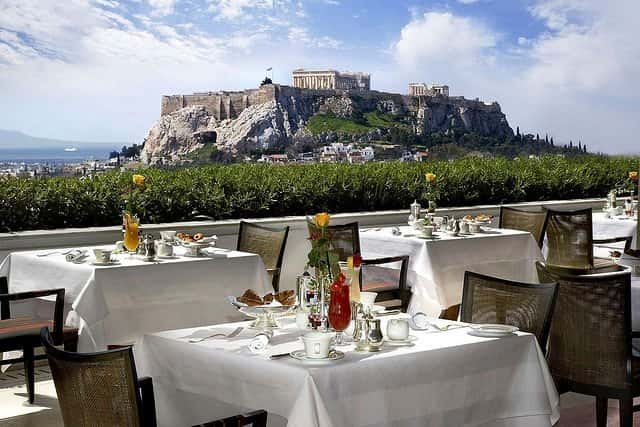 Our Story
For years we have all heard about how delicious but more importantly how beneficial the Mediterranean cuisine can be for our health and longevity. While numerous countries have a claim on this cuisine, Greece, with its perfect geographic location and influence between east and west, plentiful of all ingredients from land and sea achieves flavors undeniably the best!


Coming from a Greek family raised in the United States, and later being fortunate enough to live 20 years of my adult life in Greece close with grandparents and family, I traveled to many of its different and diverse regions making my experience right from the source. The art of Greek cooking still and always relies on simplicity combined with passion and imagination. Handed down to us and used from the days of the ancient Greeks, the use of only the finest and freshest products has always been the key to creating the healthiest and most delicious meals fit for all.


My husband, Giannis, a Greek national and role as the "traditional other half", consented to repatriate with me to the U.S. in 1999. As we met new people and became closer friends, we were both always asked to share our experiences of the "old country". Our passion for entertaining while preparing meals to introduce the many Greek flavors to our new friends began putting Greek food on the map within our community. This practice eventually turned into small events. As the demand grew "Tastes of Greece" restaurant became a reality needing its own official facility. "Small on space, but big on taste" was an original description from one of our loyal reviewers.


Six years later, and rapidly growing following, our family shares a little part of Greece right in the midst of Laguna Niguel, continuing to introduce true Greek flavors, traditions and hospitality with our entire community. Each day begins from scratch starting with our uplifting "eat and run" Gyro wraps prepared with home quality ingredients to the five star multi course nostalgic recipes produced by our experienced chef and staff of the Greek cuisine. Either will ensure an experience you will want to repeat. Our awareness of all the products we use also eases our ability to prepare delicious dishes for most restricted diets as well.


Catering for large or small events, taking cooked healthy meals to your homes have always been a part of the services we have to offer, but to get a better feel of our story, we ask you to come in and meet us, Elizabeth and Gianni, enjoy an entire meal in our "boutique and unique" environment always prepared with the personal touch and warmth of a Greek home. Hoping to see you soon and make you a part of our extended family!


Yours truly,
Elizabeth Gaitanis